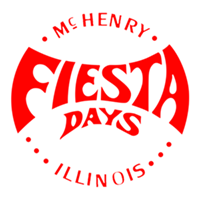 Applications
Applications for participation in the parade or other events are listed below. If you have any questions please contact us using the contact form.
Re-Entry/Ins & Outs & Wristband Policy
Re-entry is allowed. Please get your hand stamped before exiting. All wristbands are non-transferable.
Parking
During Music Fest weekend, free parking is available at Petersen Park (4300 Peterson Park Rd, McHenry, IL 60050). There is limited street parking for the events at Veteran's park during the second weekend of Fiesta Days.
Credit and Debit Cards
We do have credit card machines at the park for tickets and beer sales.  Most food vendors also provide a credit card option. However, an ATM will also be on site (sponsored by PDQ Merchant Enterprises and McHenry Savings Bank).
Designated Driver Booth
Attendees who are over 21 can receive a wristband at our Designated Driver booth (provided by Advocate Good Shepherd Hospital) that allows them to receive free water and soft drinks throughout the night.  Individuals who have a designated driver wristband will not be allowed to purchase or consume beer, and individuals who have purchased or consumed beer will not be eligible for the Designated Driver booth.
The following items are not allowed at Fiesta Days:
Weapons of Any Kind, Including Fireworks or Explosives of Any Kind
Illegal or Illicit Substances of Any Kind
Outside Food or Drinks (Including Alcohol)
No Coolers of Any Kind Allowed
Large Backpacks
Glass Containers and Metal Aerosol Cans, Including Sunscreen in Aerosol Cans
Skateboards, Scooters or Personal Motorized Vehicles (unless medically necessary)
Bicycles Inside Festival Grounds
Pets (Except Service Dogs)
No Unauthorized/Unlicensed Vendors Allowed
No Unauthorized Solicitations, Handbills, Sampling, Give-Aways, etc.
Gates Open:
Thursday, July 7, 6:00 pm
Friday, July 8, 5:00 pm
Saturday, July 9, 5:00 pm
Sunday, July 10, 12:00 pm